Hunting price list
Here at the Diamond L Ranch our main goals for your hunt are to be successful, fun and safe. We want your hunt to be a more than what you were hoping for.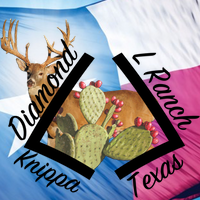 When hunting on our ranch you are required to comply with all state laws and hunting regulations while hunting at the Diamond L Ranch. Click here for more information on Hunting Licenses, Stamps and Permits
A 50% deposit is required to book a hunt.
Wounded game: Every effort to locate animals will be made. Make your shots count as wounded animals are treated the same as kills (full price.) There are no guarantees on wounded game.
Lodging is only included on our all-inclusive hunting packages. Non-hunting guests are $150 per day; children 4-10 half price (maximum of 3 guests per hunter)
_______________________________________________________________
Addax (prices from)                             $5,000
Aoudad                                                   $4,000
Axis (buck)                                             $3,500
Axis (doe)                                               $750
Black Buck                                             $3,000
Black Buck (doe)                                  $500
Blesbok                                                  $6,000
Buffalo                                                   Contact Us for More Information
Corsican Ram                                       $2,000
Eland                                                      $5,000
Fallow (buck)                                        $4,000
Fallow (doe)                                          $500
Mouflon Ram                                        $3,000
Whitetail – under 150 class                $4,000
Whitetail – 150's class                         $5,500
Whitetail – 160's class                         $6,500
Whitetail – 170's class                         $7,500
Whitetail – 180's class                         $9,000
Whitetail – 190's class                         $10,000
Whitetail – 200's class                         $12,500
Whitetail – 210's class                         $13,500
Whitetail – 220's class                         $14,500
Whitetail – 230's class                         $15,500
Whitetail – 240's class                         $16,500
Whitetail – 250's class                         $17,500
Whitetail – 260's class                         $20,500
If you have any questions regarding pricing, or are looking for a custom quote please don't hesitate to   CONTACT US
Processing – If you would like to have your game processed locally we recommend Uvalde Meat Market & Processing who offers nationwide shipping for your convenience.